Ovation of the Seas offers state of the art cruising experience to Australian and New Zealand passengers from today! Based in Sydney, Australia, Ovation of the Seas will be sailing to New Zealand and Asia in her debut months. The entertainment, dining, shopping, relaxation and staterooms are like nothing we have seen before.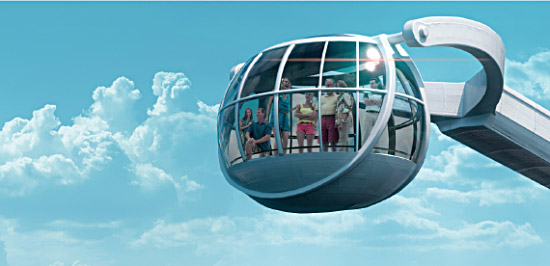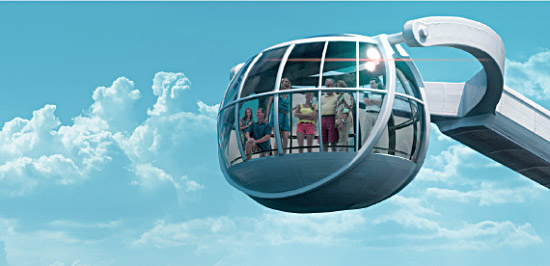 Exciting new features include
A jewel-like observation capsule suspended from the ship allowing passengers to see the world from a breathtaking 90 metres above sea-level.
The first ever skydiving simulator at sea. Discover the thrill of skydiving in a completely safe and controlled environment with RipCord by iFLY,
The largest indoor active space at sea. With 30 bumper cars, a roller rink, full-size basketball court, a circus school, floating DJ booth and a resident food truck.
Robotic barmen! Designed to energise and enthral, robots can mix up to two cocktails a minute with laser precision and thirst-quenching results.
FlowRider® Surf Simulator
Surf your way across the Pacific on the, our 40-foot-long on-board surf simulator.
A new approach to dining at Sea

No Set Meal Times. No Set Tables. It's Dynamic Dining
There are two ways to experience Dynamic Dining. Dynamic Dining Choice gives you the freedom to pick and choose your restaurants and dining times. Dynamic Dining Classic is a new option for those who prefer the traditional main dining style with the same dining time each night. Dynamic Dining Classic is available on a first come, first serve basis.
18 Restarants including Jamie Oliver's Italian Restaurant
Embark on a journey of culinary exploration that is as vast and varied as any great city in the world. Experience the diversity and cutting edge of the latest in dining with restaurants including Wonderland (imaginative cuisine) Jamie Oliver's (Italian) devinly decadence (healthy alternatives), Silk (Pan-Asia flavours), Michael's Genuine Pub (Michael Schwartz's simple & superb food) and American Icon Grill (gastronomic America).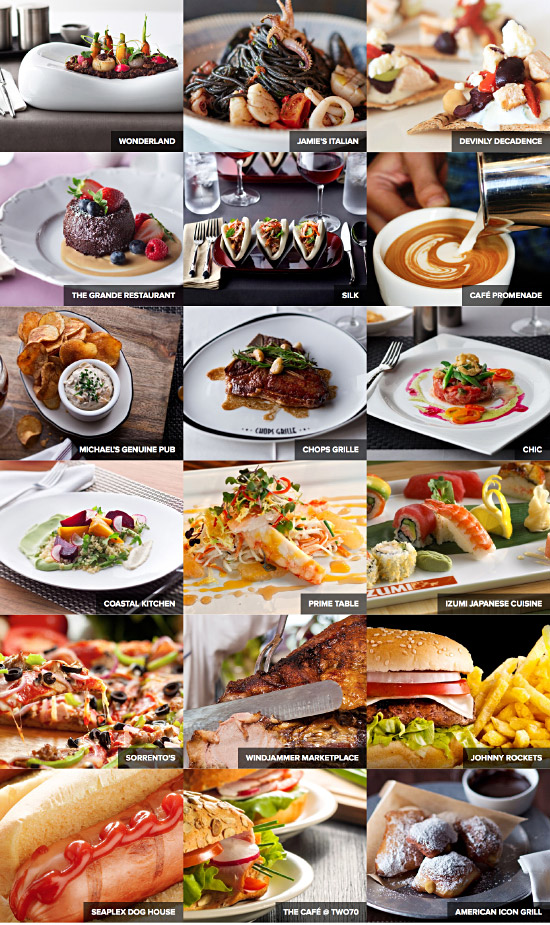 Retail therapy finest brands
Shop onboard for jewellery, fashion, luxury watches and beauty with celebrated brands including Bvglari, Regalia and Hublot.. What holiday wouldn't be complete without a little retail therapy?
Relax with Vitality Spa & Fitness Center
Use your time onboard to revitalise and relax. The Vitality Spa and Fitness Center is a relaxation and wellness retreat to help you relax, rebalance and re-energize mind and body during your cruise.
Visit cruisoffers.com.au to book a cruise onboard Royal Caribbean's Ovation of the Seas.