Passenger ships have been increasing in size for many years. A hundred years ago, Hamburg – America Line's SS Imperator was the world's largest passenger ship at 51,500 tons. Today many cruise ships are two or three times that size.
1. Allure of the Seas and two other ships of Royal Caribbean International's Oasis Class are by far the biggest cruise ships in the world. Weighing 225,282 tons and accommodating 5,400 passengers, these 360 metre long ships cruise the Caribbean.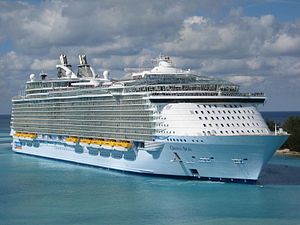 2. The Norwegian Epic is the biggest ship operated by Norwegian Cruise Lines. It is 155,873 tons and 329 metres long. It carries 4,100 passengers.
3. Freedom of the Seas and it's two sister ships of Royal Caribbean International's Freedom class are the world's third biggest cruise ships. They weigh in at 154,407 tons and accommodate 4,370 passengers
4. Cunard's famous Queen Mary 2 is 148,528 tons and is 345 metres long. The QM2 is also a liner, regularly crossing the Atlantic between Southampton in England and New York, as well as undertaking an annual world cruise and shorter cruises. As a liner it is faster than other cruise ships and more capable of handling heavy seas. It carries 2,620 passengers and when it was built in 2003, it was the biggest passenger ship in the world.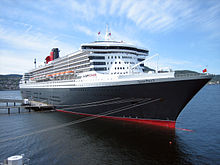 5. The fifth biggest class of cruise ships are Norwegian Breakaway and Norwegian Getaway operated by Norwegian Cruise Lines. At 144,017 tons and 344 metres long, they each transport up to 4,500 passengers from New York to the Caribbean.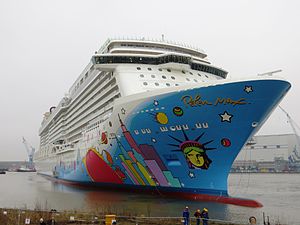 6. The Royal Princess  and her sister ships are the sixth largest. Princess Cruises operate two of this class with a third on order. P&O are soon to take delivery of another, the Britannia. Cruising through the Mediterranean and Caribbean, they weigh 142,000 tons, are 330 metres and long and take 3,600 passengers.
7. Voyager of the Seas is the lead ship of a five strong class run by Royal Caribbean International. Built in Finland at the turn of the century, they are 311 metres long, weigh 138,000 tons and transport 3110 passengers.
8. MSC Divina is one of four similar ships by run by Swiss-Italian company MSC Cruises. At 333 metres long and weighing in at 138,000 tons, they mostly operate in the Mediterranean Sea but occasionally venture over to the West Indies.
9. Disney Dream and Disney Fantasy are 130,000 tons, 340 metres long and run Disney themed trips from Florida.
10. Carnival Dream and two sister ships sail under the Carnival Cruise Lines banner, while a four ship is operated by their Italian subsidiary Costa Crociere. The 130,000 ton, 306 metre ships operate in the major cruise markets of the Mediterranean and Caribbean seas.
Visit www.cruiseoffers.com.au for all cruise specials.